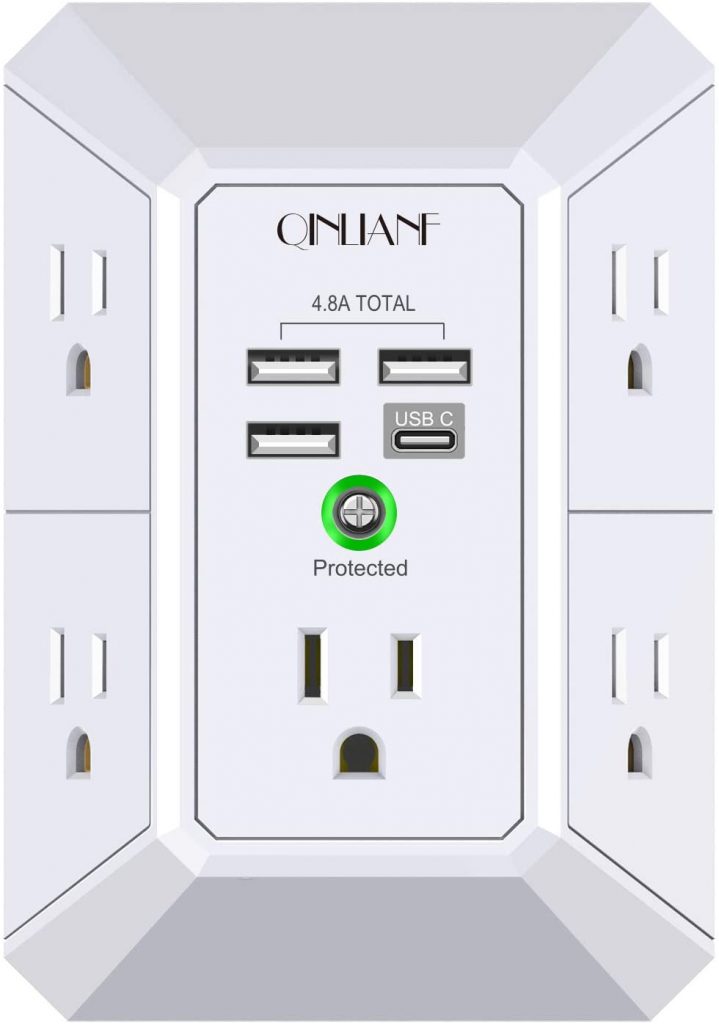 USB Wall Charger, Surge Protector, QINLIANF 5 Outlet Extender with 4 USB Charging Ports ( 4.8A Total) 3-Sided 1680J Power Strip Multi Plug Outlets Wall Adapter Spaced for Home Travel Office (3U1C)【 Multi Function USB Outlet】- Securing onto the wall design. Fit duplex outlet perfectly, just plug in to use. You get 5 AC outlet splitter (3 sides) with wide space in between; 4 USB charger ports; using the screw at the middle to secure it onto the wall for duplex outlet, so it is not pulled out when pulling the plugged in devices and loss power. Note: this works on duplex outlet only, other types of outlet like GFCI outlet cannot be secured onto the wall.
【Wide space 】- 5 AC outlets built-in 1680 Joules surge protector with 2.1 inches long space in between, larger than standard 1.5-inch socket. Larger spacing makes it easier to use for all kinds of equipment.
【 Smart Charge with USB A & USB C 】- 4 USB ports total 4.8 A, each USB A port features 5V/2.4A Max output. USB C charging port features 5V/3A MAX. Built in smart technology, detecting charging devices and deliver optimal charging speed automatically, compatible with Kindle and most USB devices. NOTE: The UCB-C port is not Quick Charger 3.0, doesn't support any other devices which need 9~22V charging voltage.
【 Reliable Surge Protector Circuit 】- 3 level complementary Surge Protector Circuit which composed of TVS, MOV (metal oxide varistor), GDT (gas discharge tube), with minimum 1680J energy absorbing capacity, could protect your devices much more quickly and reliably than other brand's 1 level MOV(metal oxide varistor) Surge Protection Circuits.
【 Our After Sale Service 】- ETL Certified,All our products are covered by global liability insurance ,protected by $1000,000 connected equipment warranty. Our friendly and reliable customer service will respond to you within 24 hours. You can purchase with confidence, with our 30-day return and 12-month replacement .