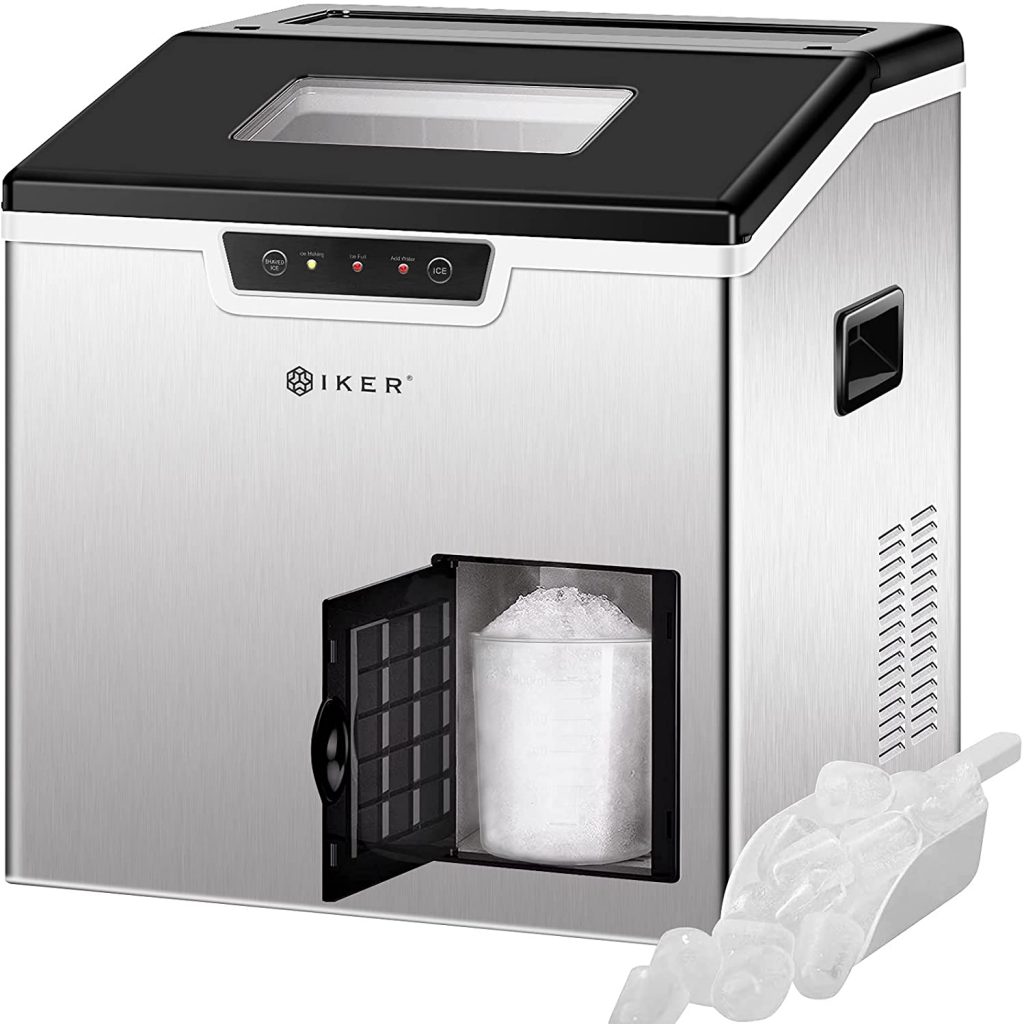 IKER Ice Maker and Ice Shaver Machine Countertop, 44lbs Bullet Ice Cube in 24H, Ice Maker Machine with Snow Cone Maker for Home and Commercial Use, Stainless Steel
2 in 1 Bullet Ice Cubes Maker & Built in Ice Crusher】IKER's countertop ice maker machine can produce 18 ice cubes per cycle (every 9 to 11 minutes). That means you can make up to 44 pounds of ice cubes every 24 hours, which can meet large demands easily. And the built-in ice crusher can make a full batch of fluffy shaved ice within a minute. Perfect for snow cones or a mixed drink.
🍨【2 Ways to Fill The Large Water Reservoir】You can pour water directly into the basin, or hook it up to a water supply for the water to automatically fill. The package comes with a standard filter for the second option. Besides, it is very easy to clean because of the water draining port. Perfect for homes, restaurants, bars, canteens, snack stands, fairs, etc.
🍹【Automatic Overflow Protection】Ice machine countertop with advanced infrared sensor technology, portable ice maker will automatically stop making ice when the ice basket is full or when you need to add water, no trouble for an ice pick and no leakage. Easy to use: Add water, press button and get ice. Scoop ice cubes (Ice scoop included) into built-in ice crusher, press button and get shaved ice directly.
🍺【Stainless Steel Body】The body of ice maker & shaver machine is made of high-grade stainless steel and well crafted. In the machine, food grade corrosion-free stainless steel ice tray and blade are built. Rust proof and hygienic, it is a breeze to clean.
🥂【Water Recycling System】Counter ice maker machine holds up to 3 liters of water and the machine can store up to 6.6lbs of ice at once. It contains a recycling system, collecting melted water and filtering it to be reused ensuring that no water is wasted.